Enjoy your favorite boiled soup in minutes! Corned beef nilaga is easy to make with simple pantry ingredients yet turns out super tasty. It's the perfect comfort food on its own or with steamed rice.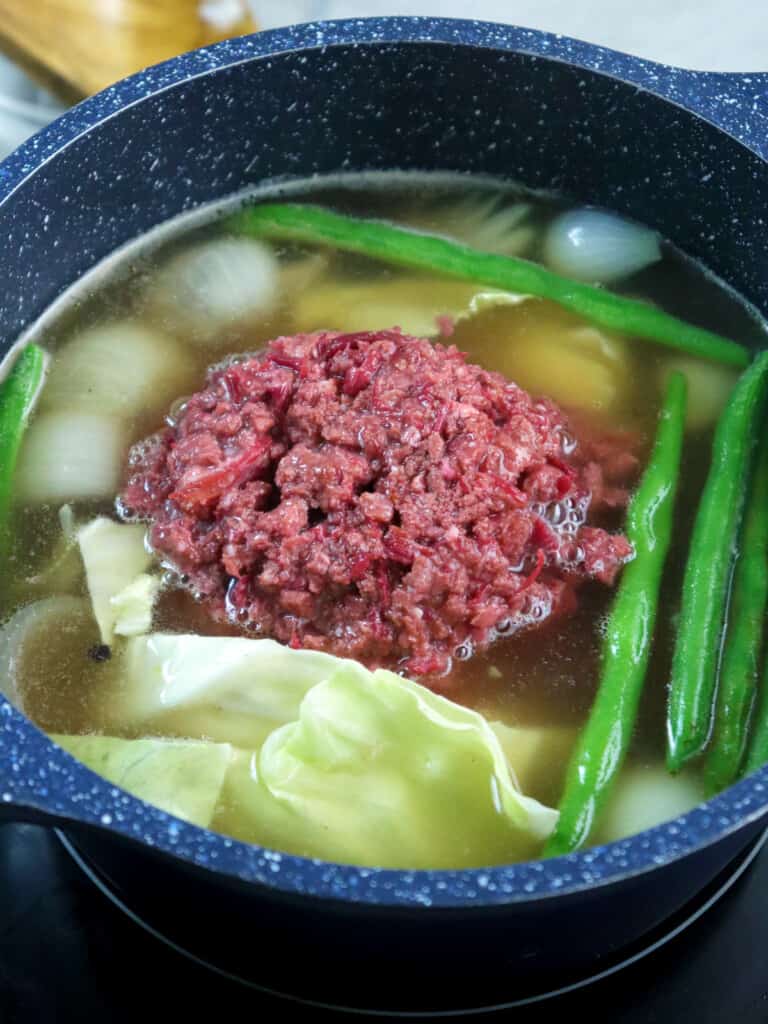 This nilagang corned beef is my Pinay take on the classic New England Boiled Dinner, a one-pot dish made of corned beef brisket, cabbage, and root vegetables such as potatoes carrots, and turnips.
The boiled dinner is one of our favorite holiday meals, but I don't make it other than on St. Patrick's Day when the dish is traditionally served. Why take forever and a day to simmer the brisket to tenderness when I can use tinned corned beef for instant gratification?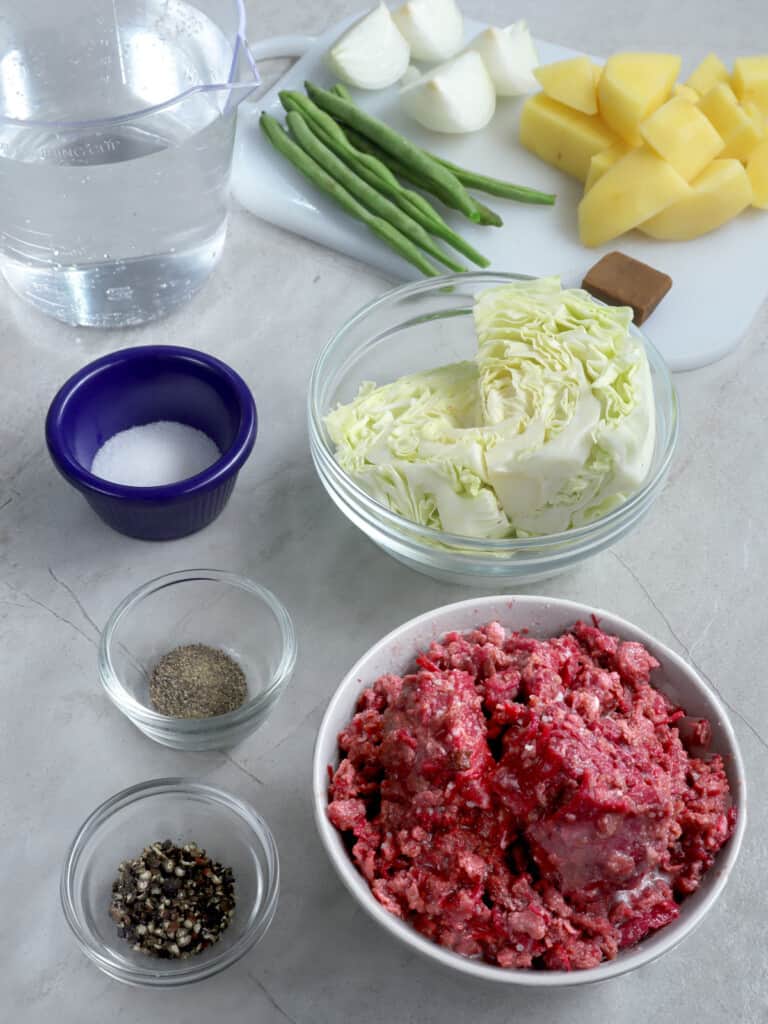 Corned beef nilaga delivers the same comforting flavors but with less work and less time. It's ready in a matter of minutes yet turns out full of flavor.
I know it sounds like a strange idea, but try it before you knock it! You'll be surprised how well the recipe works. It tastes just like corned beef guisado but in soup form!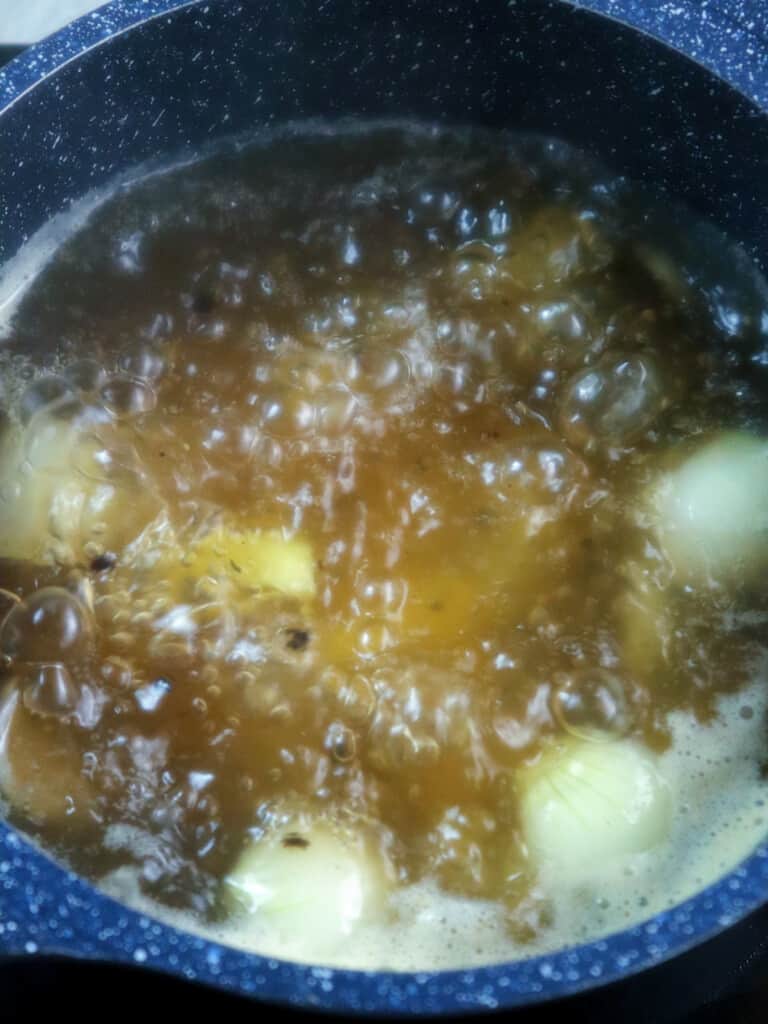 This recipe is super easy, but there are two things to note for best results.
Use a chunky variety of canned corned beef. My favorite brands are Martin Purefoods, Palm, Ox & Palm, and Argentina.
Gently break the corned beef into large pieces and limit stirring the soup to keep the meat in chunks.
Cooking Tips
This corned beef nilaga is meant to be a quick recipe and uses canned corned beef. You can swap it with corned beef brisket if available. Cut the meat into 2-inch chunks, cover with water, and simmer for about 1 1/2 to 2 hours or until fork-tender. Add the vegetables and cook until tender. Season with salt and peppercorns.
The recipe uses potatoes, cabbage, and green beans. Feel free to add common nilaga vegetables such as carrots, sweet corn on the cob, and scallions.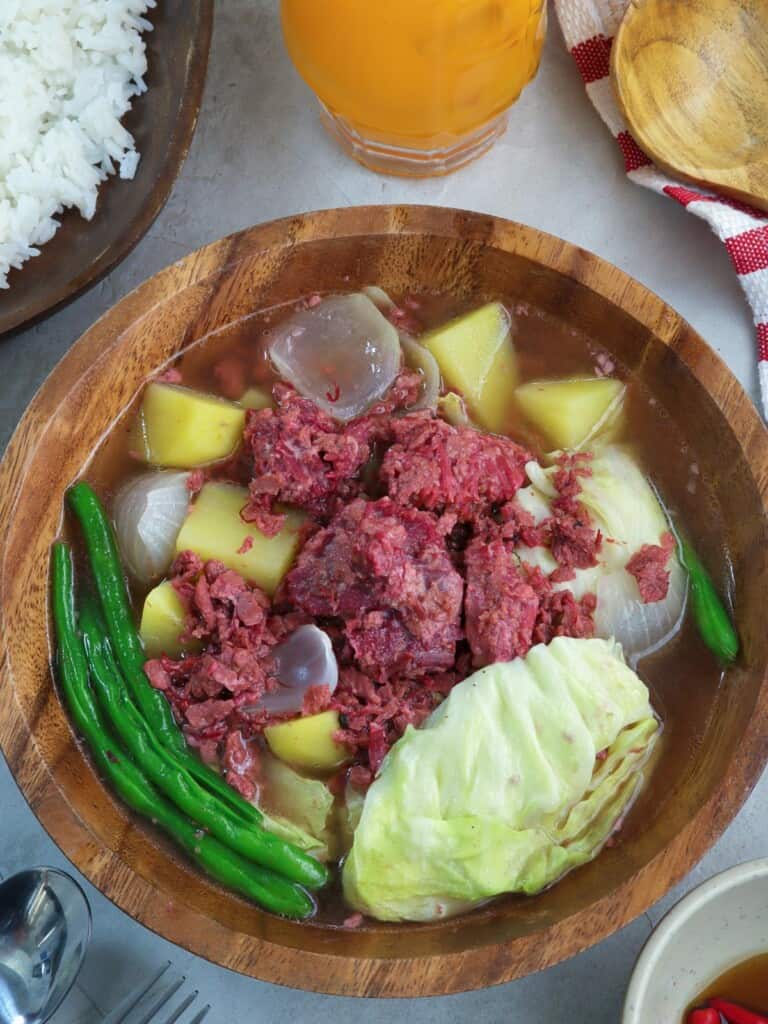 How to serve and store
This nilaga soup is delicious on its own or with steamed rice. Enjoy it as main dish for lunch or dinner.
Store leftovers in container with lid and refrigerate for up to 3 days.
Reheat in a saucepan over medium heat to 165 F, keeping stirring to a mininum.