Lengua Estofado is the perfect addition to your holiday or special occasion menu. With melt-in-your-mouth tender ox tongue, meaty mushrooms, and flavorful sauce, it's sure to be a crowd favorite.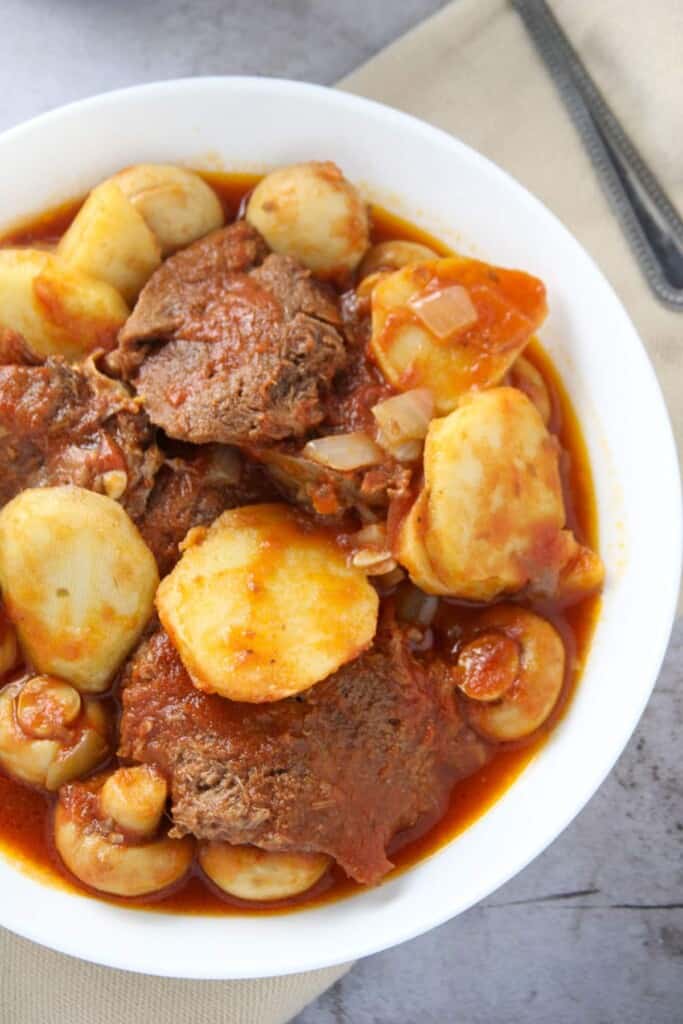 Table Of Contents
Ingredient notes

Cooking tongue

Peeling and slicing

How to serve and store

More lengua recipes

Lengua Estofado
Lengua Estofado, which translates to tongue (lengua) stew (estofado) in Spanish, is a Filipino delicacy with heavy colonial influence. Adapted from Andalusian-style cooking, it's a type of braised dish where ox tongue is cooked low and slow in a rich tomato sauce seasoned with vinegar, soy sauce, and aromatics.
If you haven't tried lengua before, this is the perfect recipe to get your first bite! You'll be pleasantly surprised how the the tough muscle turns to a velvety-soft, flavorful meat with none of the off-taste or smell you'd expect from an offal.
Add a generous smothering of the luscious red sauce plus hearty mushrooms, and creamy mushrooms, and you're in for a treat!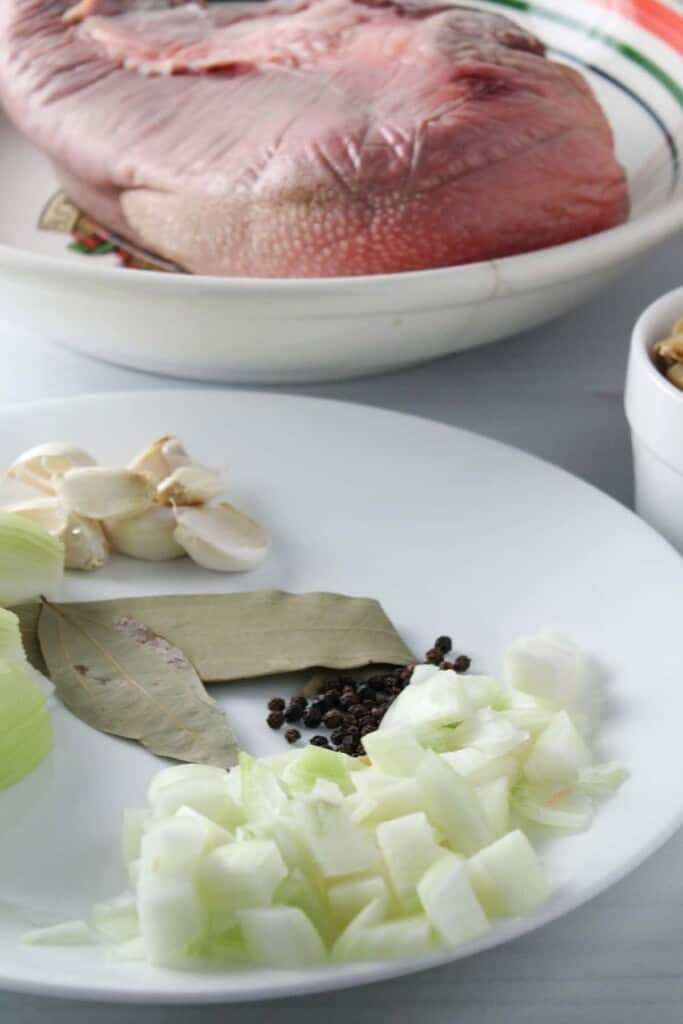 Ingredient notes
Beef/ox tongue– you can substitute pork tongue which are usually smaller and thus cook quicker
Aromatics– onions, garlic, and bay leaves infuses the meat with additional flavor
Broth– reserved from pre-cooking the beef tongue
Potatoes– cut into 1/2-inch rounds or quarter into cubes
Mushrooms– you can use fresh or canned button mushrooms
Tomato Sauce– you can use ½ cup tomato paste and ½ cup water to replace tomato sauce.
Soy Sauce– adds umami flavor
Sugar– balances the sour notes with sweetness
Carrots, bell peppers, and/or green olives– feel free to add these vegetables for extra color and texture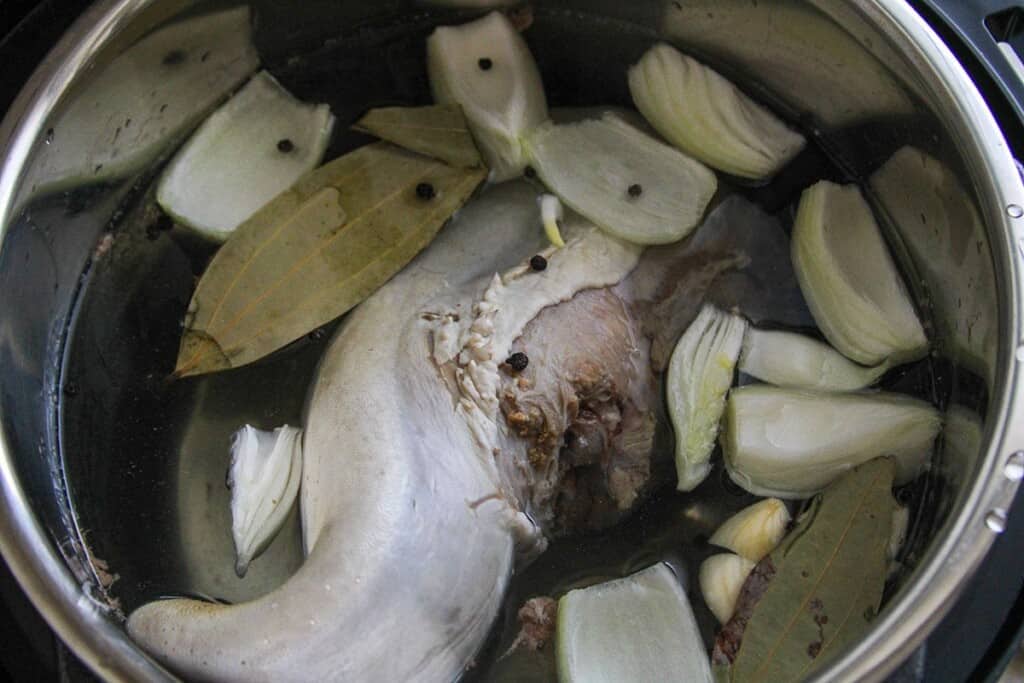 Cooking tongue
Lengua is usually served for special occasions as it can be pretty pricey and takes hours to tenderize. By following the simple hacks below, you can enjoy this magnificent cut of meat for everyday family dinner fare.
You can cook the tongue in advance, portion the serving slices in resealable plastic bags or airtight containers, and store them in the freezer until ready to use in your favorite dishes like tacos de lengua lengua in mushroom sauce and of course, this lengua stew.
You can also use an Instant Pot or pressure cooker to save time. From the usual 4 to 5 hours to tenderize, it will take about 50 to 60 minutes to pressure cook the lengua depending on weight.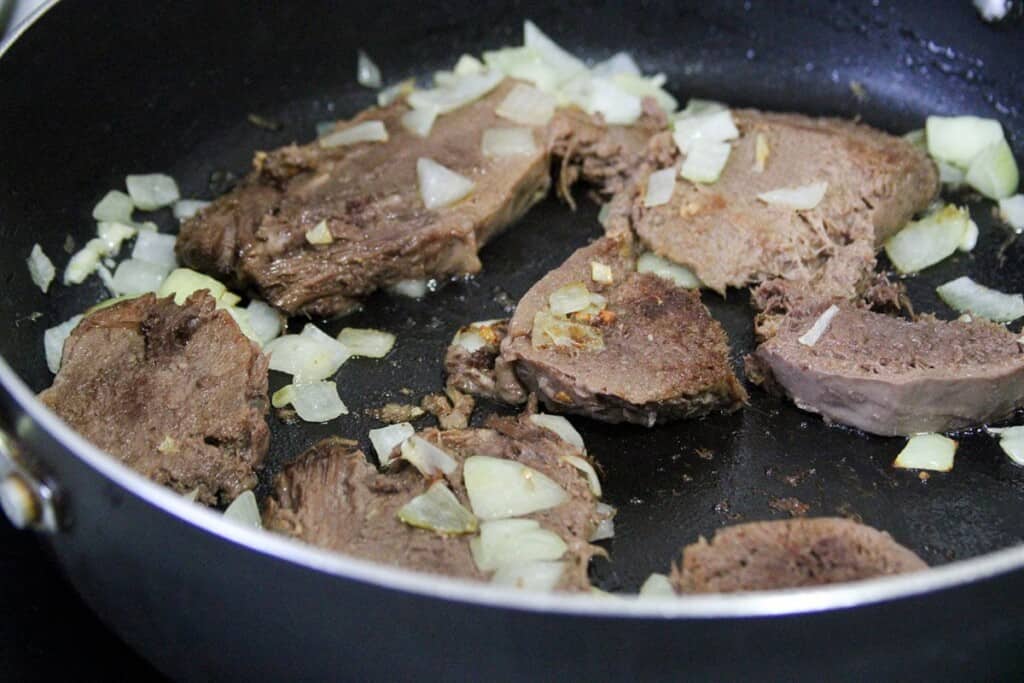 Peeling And Slicing
Allow the cooked tongue to just cool enough to touch and peel before it's completely cooled. The skin is easier to pull off while still warm.
If the tongue is cold,  a vegetable peeler is the best tool to shave off the skin cleanly and without a lot of waste.
While it's easier to peel while slightly warm, it's easier to cut into neater slices when chilled. After peeling, refrigerate for about 1 to 2 hours until cold before slicing.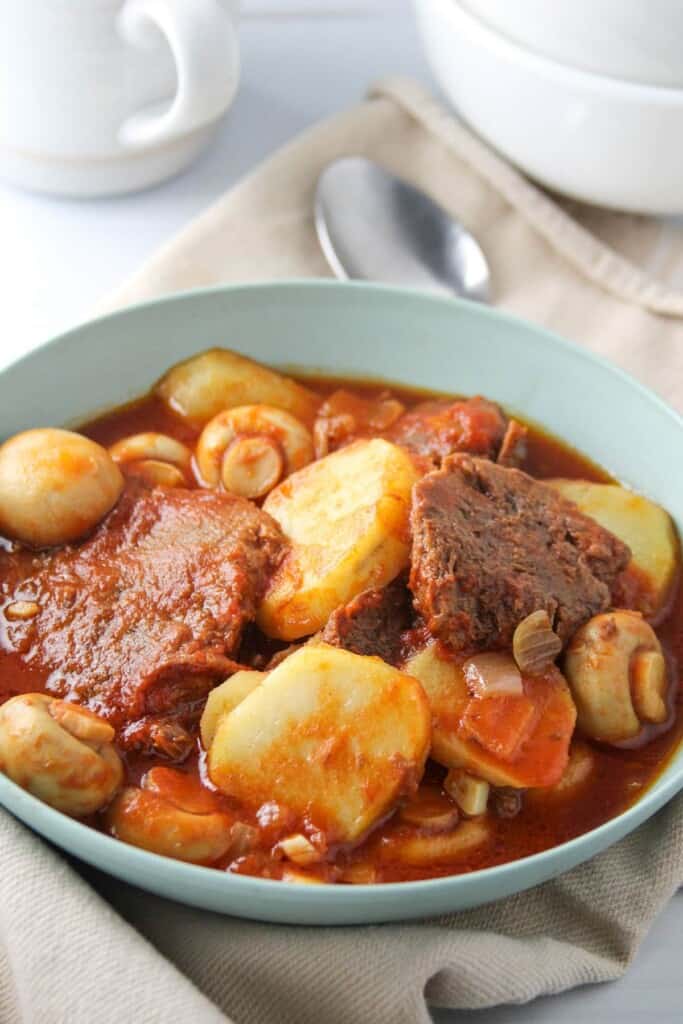 How to serve and store
Lengua estofado is delicious as a main dish for lunch or dinner. Serve with steamed rice, mashed potatoes, or noodles for a hearty meal. For a lighter option, enjoy it with a tossed salad and a crusty bread loaf to sop up the tasty sauce.
To store leftovers, transfer in a container with a tight-fitting lid and refrigerate for up to 3 days or freeze for up to 2 months.
To reheat, place in a saucepan and heat until internal temperature reads 165 F.