Oven-Roasted Pig's head you can easily make in your kitchen! An interesting entree with super crispy skin and moist, tender meat, this lechon ulo ng baboy is sure to be the star of the party.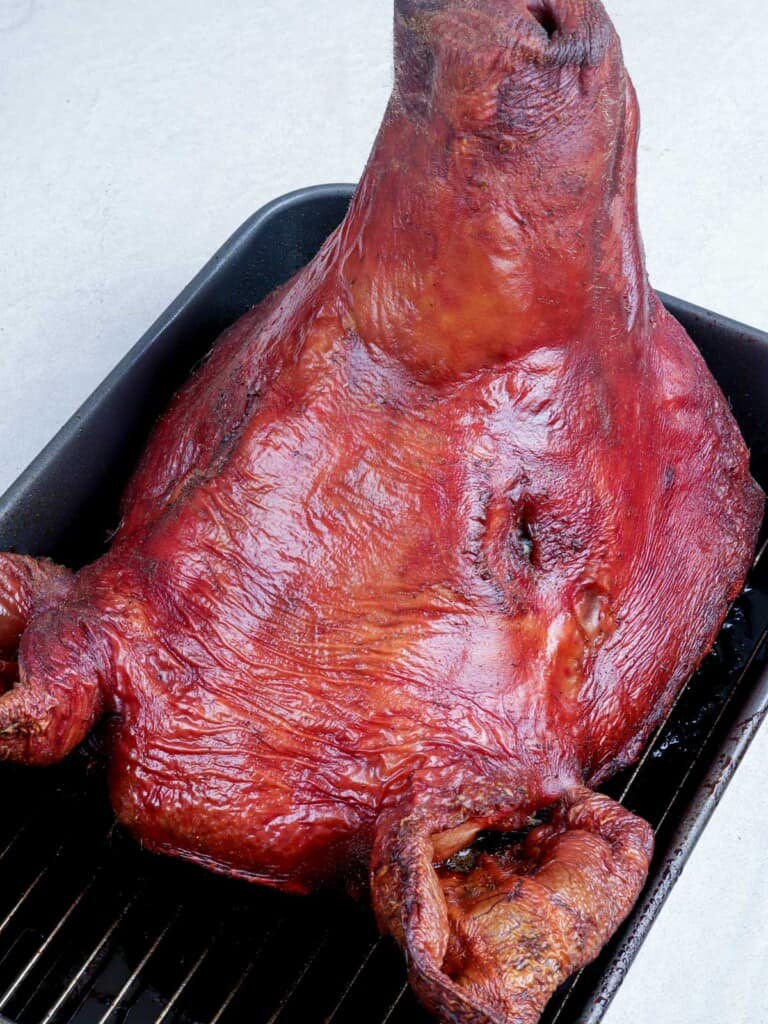 Table Of Contents
How Long Does it Take to Roast a Pig

How to serve and store

More pork appetizers

Oven-Roasted Pig Head
I made this roasted pig head last weekend for our holiday series here on the blog but decided after not to post it. The lechon was actually a success; I just wasn't happy with my final photo shot above.
I mean, it looks more like something you'd see in a horror movie than something you'd serve for Noche Buena.
However, I already shared a picture of the pig head on Instagram and everyone was asking for the recipe so I thought I might as well put it up. After all, how pretty can you possibly make pig snout look?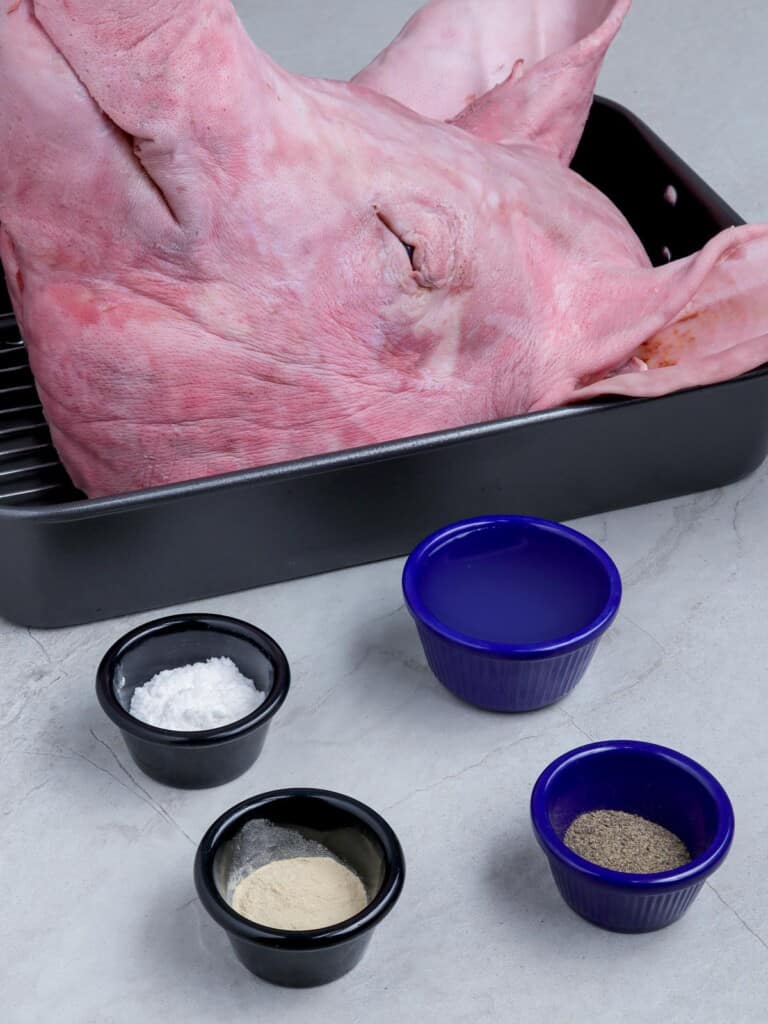 Remembering those roasted pork morsels now, I can't believe I thought of NOT posting the recipe on the blog. What was I thinking? Just look at the super crunchy skin and moist meat! Pretty or not, this roasted pig head is sure to be the star of any holiday party!
I've used this lechon sa hurno technique on pork belly and shoulder with great results and I was glad to see it works well on a pig head, too. The low and slow roasting method really makes for an amazing melt-in-your-mouth tender meat.
Maybe one day I'd find a small suckling pig that would fit in my oven; it would be an exciting experiment.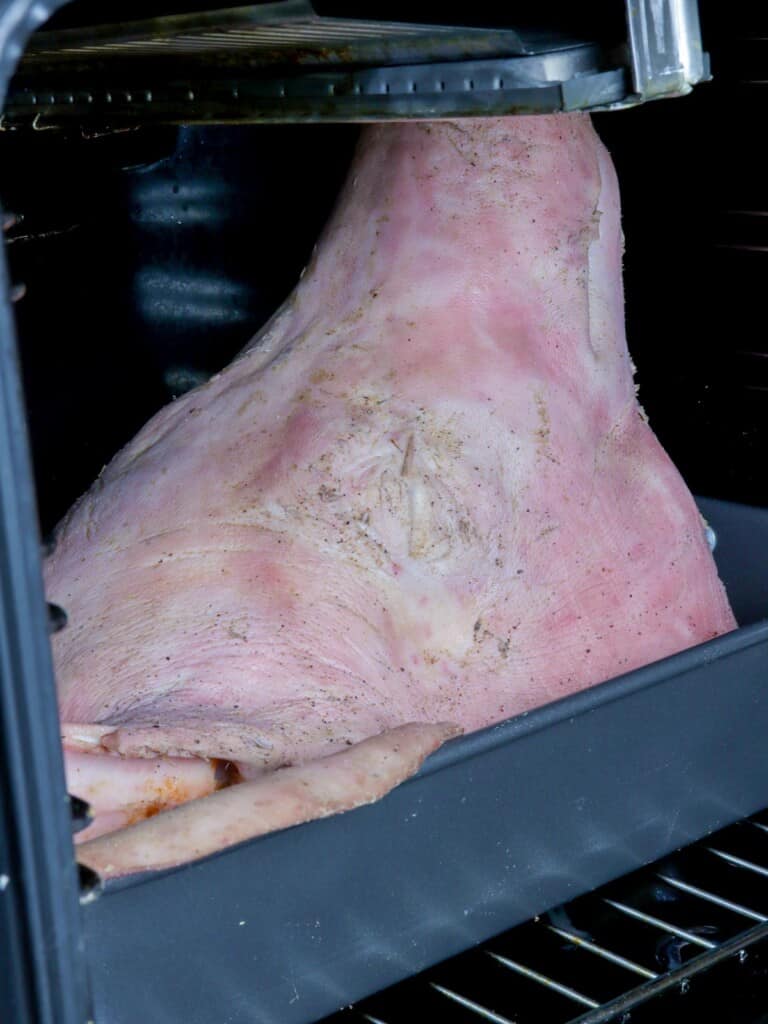 How Long Does it Take to Roast a Pig
The roast pig head took a total of 6 hours, first at 180 F for 3 1/2 hours to slowly cook the meat, then at 320 F for 2 1/2 hours to start the browning, and finally at 430 F for 40 minutes to crisp up the skin. Please note that I used half a pig head around5 pounds in weight and you might have to adjust cook time if you're using a whole or larger piece.
I suggest an extra 25 to 30 minutes at 180 F temp and 25 to 30 minutes at 320 F temp per additional pound of meat. If the ears are browning too much, you could wrap them with foil.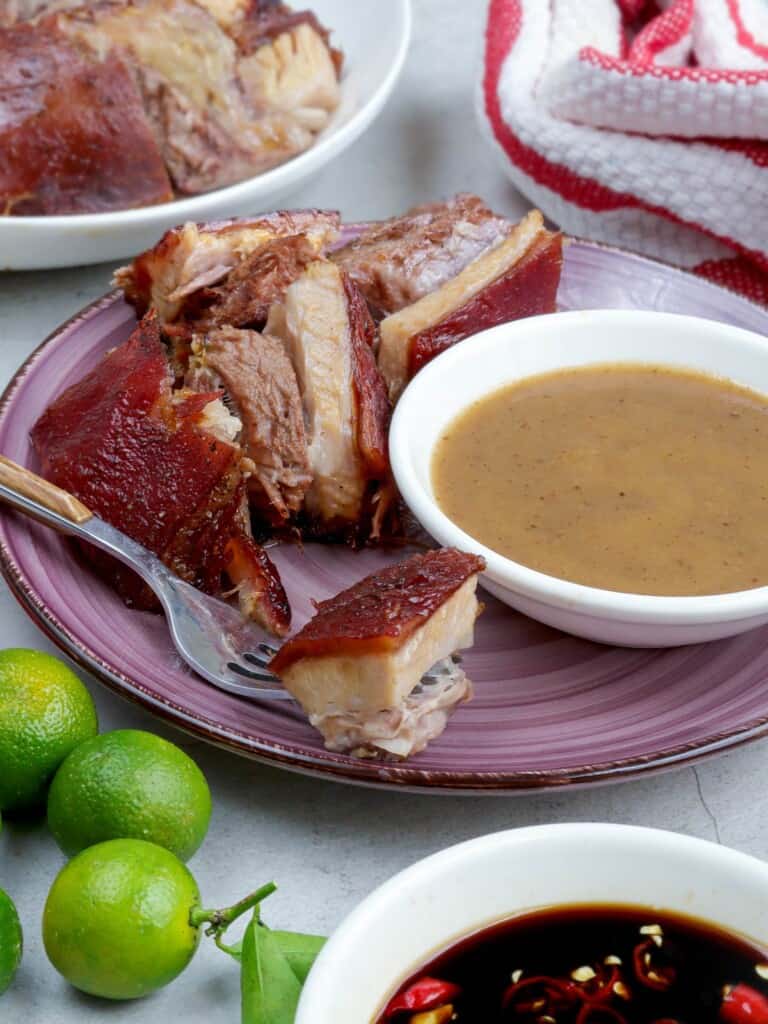 How to serve and store
Enjoy this roasted pork as an appetizer with your favorite drinks or as a main dish with steamed rice. Chop into serving pieces and serve with a dipping sauce such as spiced vinegar or lechon sauce.
Lechon is best enjoyed freshly cooked as the skin tends to lose crispness over time. Turn leftovers into sisig or paksiw!